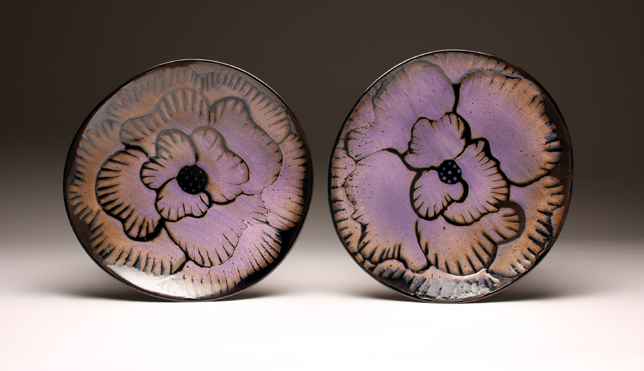 Platters By Daphne Hatcher: Available in sizes from 7" to 20" in various patterns and color schemes.
Purchase Ceramic Art from Pine Mills Pottery
studio and gallery
VISITING the studio is the best way to purchase our work, although we are happy to ship work anywhere in the world if you cannot visit us in person. There are many photographs on this site to give you an idea of what is available. We have a continually changing selection of work in our studio gallery, as it evolves and develops in the natural process of creativity. We are usually open from 10-5 daily, but it is best to phone ahead and make a loose appointment, to be sure someone will be here, as occasionally we are away. We'd hate for you to drive out and be disappointd to find no one here. 903.857.2271 Click here for directions to Pine Mills Pottery.
VIRTUAL GALLERY PURCHASES: Daphne will be happy to help you with online purchases. If there is a particular item on the site you are interested in purchasing, or if you have a general price range and color in mind for a gift, Daphne will work with you to make a purchase. She will take digital photos of actual pieces in stock in the studio gallery and email the images to you, and you can make a selection, then the transaction and shipment information can be exchanged over the phone. You, or your intended recipient will receive that exact item. Use the Contact/Ask A Question link. We will quickly respond with pricing and additional details and will gladly assist you with a purchase. We keep a large selection of works on hand at all times.
GIFT CERTIFICATES are available in any amount. Just drop us a note using the Contact/Ask A Question link or phone 903-857-2271 and we will provide an attractive gift card for your gift presentation.
DINNERWARE sets are available primarily by order. Gary has been making, and Daphne has been glazing, some of the most beautiful and serviceable dinnerware around, for over 30 years. Complete dinnersets and individual dinnerware items are available in the studio gallery or they can be shipped to you. A current price list is available in PDF format for download by clicking the pricelist link. All dinnersets are made one at a time by Gary & Daphne. Allow six months for most dinnerware orders. We try to keep a few complete dinnersets on hand in the studio gallery, but most dinnerware must be ordered and is made specifically for you. Click here to see some of the available styles and colors.
COLLECTORS of our work will find our upstairs gallery particularly interesting. Work that is held back for museum and gallery exhibitions can be viewed and some pieces are available for purchase. Out of every firing we select what we consider to be the best pieces. These pieces are held to send out to exhibitions in which we are invited to participate and for placement in private collections.
CONSIGNMENT of works is not available, although we often provide pieces or a selection of pieces on approval to established customers and collectors.
ARCHITECTS AND INTERIOR DESIGNERS: We often work with architects and interior designers on both commercial and residential special projects. Projects over the last 30 years have included resturants, hotels, hospitals, airports, offices and of course many homes. Contact us to discuss your next project.
PLEASE contact us if we can be of assistance to you in any way at:
903.857.2271
Gary and Daphne