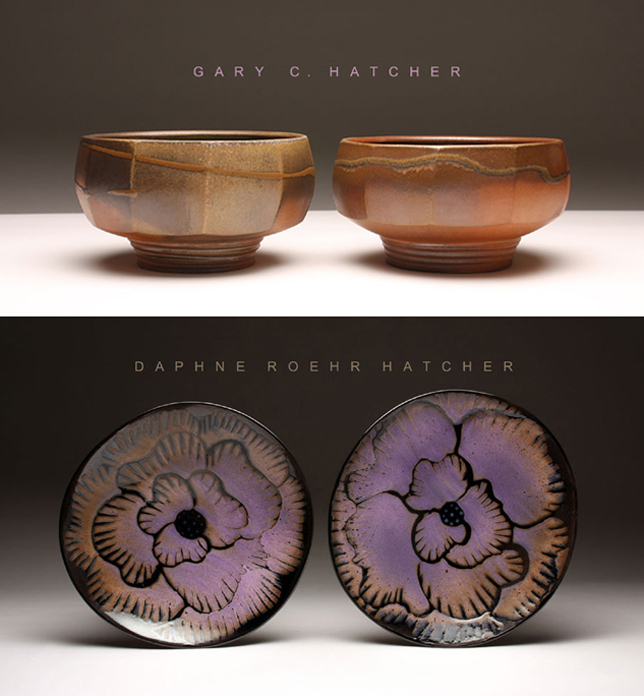 Pine Mills Pottery, handmade by human beings: Daphne and Gary Hatcher.
Beautiful pottery for thirty-three years, from our hands to yours. Call 903 857 2271 for an appointment and drive out to Pine Mills Pottery in the beautiful East Texas countryside. While our studio is usually open daily from 10-5, it's best to call ahead to be sure someone will be here. We fired both our big wood kiln and our gas-fired kiln in March and have a nice new selection of work in the gallery for you to choose from.
Coming up soon: Pine Mills Pottery's 33rd Annual Memorial Day Weekend Sale!
You're invited! Saturday, Sunday & Monday, May 25, 26, 27, 2013, 10am to 5pm.
Gary & Daphne invite you to our 33rd Annual Memorial Day Weekend Open House and Sale. The Pine Mills Pottery gallery is full of great new pots for you to choose from. Drive through the East Texas countryside, join us for refreshments and take your time selecting just the perfect vessel to carry home. Walk in the woods to the pond, sit in the garden or on the porch. Enjoy the beauty and bounty of nature and our own clay creations. We look forward to your visit!
A Gift Certificate: the perfect gift from Pine Mills Pottery! Call: 903-857-2271
Can't make it out to the studio right now? No problem. Gift certificates can be redeemed online, by phone or at our studio gallery. Give us a call and we will send a gift certificate via realmail or email to you or to your recipient with your personal message, Mother's Day greeting, birthday or wedding wishes, for any amount. You can use your credit card to take care of last minute gifts by calling us at 903-857-2271 or you may send Daphne an email by clicking here: Daphne's email
Pine Mills Pottery studio and gallery
Welcome to the Pine Mills Pottery web site. We appreciate your interest in our fine handmade pottery and hope you enjoy learning about our studio and work. Our studio and gallery are located in the beautiful rolling woodlands of Northeast Texas about 100 miles east of Dallas and 30 miles north of Tyler. Visitors are welcome at the pottery showroom where a large selection of our thoughtfully designed pottery is available for purchase. The pottery is usually open seven days a week from 10 a.m. until 5 p.m., but if you are making a special trip please phone ahead
903-857-2271 to make sure the studio is open, as we are occasionally closed. Directions to the pottery can be found here: DIRECTIONS. There are many other things of interest to do locally. Check out our list of special places in our area to eat and visit here: THINGS TO DO LOCALLY. For accommodations in the area click here: AREA ACCOMMODATIONS.
Our web site presents a sample of the exceptional ceramics made in our studio. Visitors to our showroom will find a large selection of individual works of interest to collectors of fine contemporary ceramics, as well as everyday dinnerware and serving pieces for functional use in the home. All pieces are totally handmade from stoneware clay that we blend ourselves using nine separate ingredients, including four different clays from various mines across the southern United States. Processes we use for creating our ceramic art works have been developed by us over more than thirty years, first as apprentices and then at our own studio established in 1979. We made the decision many years ago to make each individual piece ourselves and not to delegate the making process to employees. This makes it possible for us to make each piece of exceptionally high quality. We use no commercial processes such as molds, slip casting, jiggering, ram pressing, commercial glazes or commercially prepared claybodies.

Pine Mills Pottery was established in 1979 after returning from Europe where we apprenticed with potters in England, France and Greece, including eighteen months at Lowerdown Pottery in Devon with David Leach and a shorter period of time with his brother Michael Leach at Yelland Pottery. Work created at Pine Mills Pottery is primarily wood-fired stoneware, both thrown and constructed from slabs. Work is produced in multiples, focusing on form, color and a high degree of quality. Most work is fired in a 128 cubic foot Bourry box wood-fired kiln to cone 12 several times a year. The kiln was built in 1983 and has been fired over 100 times. In addition to our wood-fired kiln, we built a smaller 50 cubic foot gas-fired car kiln in 1987, in which bisque and glaze firing is done. We work independently of each other and rarely collaborate on pieces, though we share the same studio, clays, glazes and kilns. We hope you enjoy exploring our web site and are able to come to the studio and gallery for a visit. Please get in touch with us if you would like to make a purchase or have questions.
Gary & Daphne Hatcher
903-857-2271
From the making of the pots, through the glazing process, to the loading & firing of our kiln, this gallery explores the process of taking a pot from the raw clay to the gallery.
After months of work the remodel and renovation of our showroom is now complete. New work from recent firings can be viewed in this beautiful new setting. Daphne continues to come up with sumptuous platter glazes and patterns. Gary's strong bold forms are represented in new cut-sided bowls and vase forms. Come for a visit and see all that is new at Pine Mills Pottery!